Cognistat and Cognistat Five
Cognistat and Cognistat Five are the preferred screening tools for health-care professionals who need an accurate and reliable cognitive assessment method to triage patients. The original Cognistat was designed to provide a rapid analysis of major cognitive impairments in medical and psychiatric settings, particularly in situations where patients are unable to cooperate with lengthy testing regimens. The test requires 15-20 minutes to administer.
Cognistat Five is a shortened version of the full length test designed to allow busy primary care physicians and other health-care professionals to rapidly screen for Delirium, Mild Cognitive Impairment (MCI) and Dementia – this version of the test takes approximately five minutes to administer.
Developed by Ralph J. Kiernan PhD, Jonathan Mueller MD and J. William Langston MD, Cognistat has been in use for over thirty years in a wide range of fields: Elder Care, Delirium, Mild Cognitive Impairment, Dementia, Alzheimer's, Stroke, Rehabilitation, Substance Abuse and Trauma.
Cognistat's development was based on the principle that cognitive functions are discrete and need to be assessed independently using specific tasks. Ten separate sub-tests assess the major domains of cognitive functioning: orientation, attention, language, spatial skills, memory, constructions and reasoning. The results are displayed as a graphic profile of the patient's cognitive strengths and weaknesses.
Cognistat Five measures orientation, memory and constructions and uses these values, along with the patient's age and level of education, to provide the MCI Index, which is a risk assessment algorithm for MCI and dementia.
Cognistat is available in three formats:
Cognistat Paper: the original Cognistat paper and pencil test

Cognistat Active Form: a new computerized PDF format that does not require web access and has a built-in expert system to assist in evaluating Mild Cognitive Impairment (MCI) – ideal for situations where web access is not available or not permitted.

Cognistat Assessment System: a web-based, computer-assisted format with electronic data records (EDR) and longitudinal data analysis capabilities – ideal for multi-center use.
Cognistat Five is available in two formats:
Cognistat Five: a web-based format with the MCI Index, electronic data records (EDR) and longitudinal data analysis capabilities.

Cognistat Five Active Form: a new computerized off-line PDF format with the MCI Index and which can also upload data to an on-line database and electronic data records (EDR) - ideal for situations where web access is not available or not permitted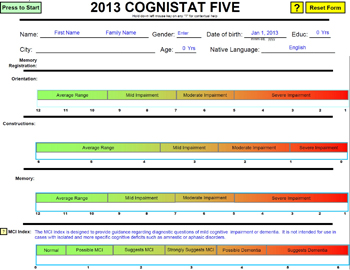 | | |
| --- | --- |
| Cognistat Five | Cognistat Five Active Form |
| | |
| --- | --- |
| Original paper test | Web-based assessment system |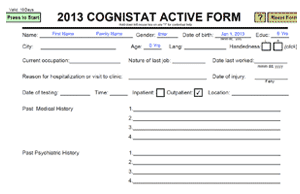 Cognistat Active Form